Oregon Coast Wedding Venues & Locations
If you're like most couples, sifting through wedding venues is the first thing on your planning checklist. After all, the memories you make here are the ones you'll always cherish. The location of your wedding has to be somewhere you'll never forget. It's where you'll say your vows and celebrate with friends and family. It needs to be stunning; somewhere that takes your breath away in person and in photos. Lucky for you, the Oregon Coast is home to some of the greatest beach wedding venues in the state!
Read More
Where Waves Meet Weddings: Discovering Dream Wedding Venues on the Oregon Coast
The Oregon Coast, with its rugged cliffs, sandy shores, and picturesque towns, sets the stage for unforgettable weddings in a natural wonderland. From the historic charm of Astoria to the breathtaking beauty and natural wonder of Haystack Rock and Cannon Beach and beyond, let's explore the diverse wedding venues that make tying the knot on our Oregon beaches a dreamlike experience.
Coastal Resorts and Hotels
Imagine exchanging vows overlooking the vast Pacific Ocean at a beach resort in Newport, Gearhart or Brookings. Many resorts along the coast provide not only stunning oceanfront views but also elegant banquet areas and outdoor spaces, offering couples a blend of sophistication and coastal charm. 
Beachside Bliss: Beach Weddings
A beach wedding on the Oregon Coast is nothing short of magical. The rhythmic sound of waves, the soft touch of sand beneath your feet, and the vast expanse of the ocean create a backdrop that's both serene and majestic. Seaside or Gold Beach, the beaches along the Oregon Coast offer an intimate and enchanting setting for couples seeking a truly romantic ceremony.
State Parks and Gardens
In towns like Lincoln City, Bandon or Florence, verdant parks and manicured gardens provide a natural canvas for love to bloom. Imagine saying "I do" amidst the vibrant flora and towering trees, with the scent of coastal blooms infusing the air. Many of our beautiful parks offer venues or meeting spaces that could be perfect for your big day!
Historic and Natural Landmarks
For couples seeking a touch of history, consider wedding venues near iconic landmarks like Yaquina Head Lighthouse in Newport or the Astoria Column. These sites offer a unique blend of vintage charm and coastal grandeur, creating a wedding atmosphere that feels timeless and unforgettable.
Private Estates and Rental Properties
Couples yearning for an intimate affair can explore the private estate and rental home venues scattered along the coast. From Tillamook and Pacific City, to Manzanita and Waldport, these venues offer seclusion and exclusivity, allowing for a celebration that feels personal and tailored to the couple's vision.
Clifftop Elegance
For those seeking an elevated experience, clifftop venues in Yachats or Cannon Beach provide panoramic views of the coastline. Exchange vows against a backdrop of dramatic cliffs and the endless expanse of the Pacific Ocean, creating a breathtaking spectacle that mirrors the grandeur of the Oregon Coast.
Whimsical Coastal Towns
Each coastal town, from Depoe Bay to Port Orford, contributes its unique charm to the wedding experience. Quaint streets, artisanal shops, and local culture become an integral part of the celebration, offering couples and their guests an immersive coastal experience.
In the embrace of the Oregon Coast, wedding venues become not just locations but chapters in a love story written against a backdrop of nature's wonders. The magic of a beach wedding, the elegance of historic landmarks, and the intimacy of private estates—the venues along the Oregon Coast contributes to the tapestry of memories that couples will carry with them into the next chapter of their lives.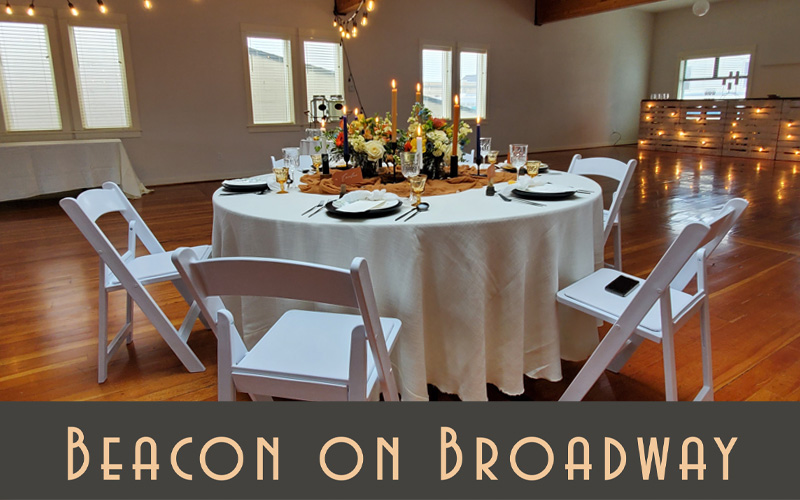 Beacon On Broadway
735 Broadway
Seaside, OR 97138
(503) 461-2080
The Beacon on Broadway turned 100 years old in 2020. This venue located in the heart of downtown Seaside, Oregon, was newly renovated in 2019. The original floor was preserved, creating warmth and elegance to enhance your special event. The Beacon is a close walk to the beach, just 4 and a half blocks away. Many hotels, restaurants, and other attractions are near.
www.beacononbroadway.com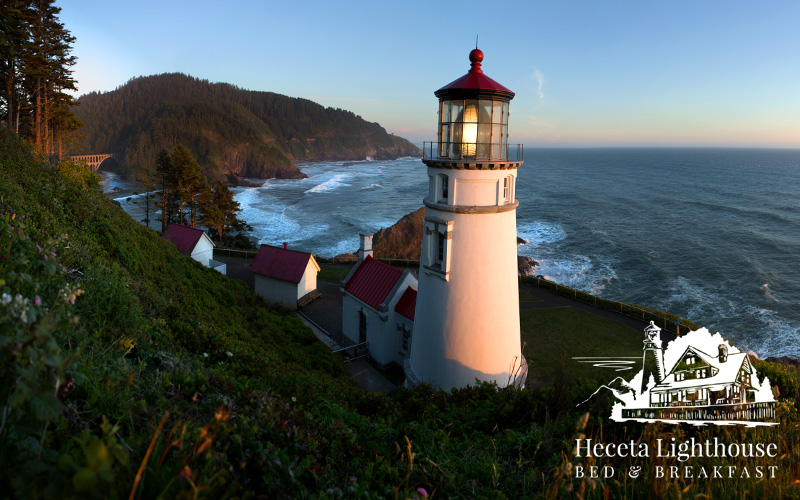 Heceta Head Lighthouse
PO Box 250
Yachats, OR 97498
(866) 547-3696
As one of the best wedding venues on the coast, the Heceta Head Lightkeepers House is able to provide an intimate environment for your ceremony and reception wether you are planning for twelve or a gala event for 150 guests. Inside the Keeper's House we can host a sit down dinner for 30 or a mingling reception for up to 45. A canopy tent can be placed within the fenced acre next to the Keeper's House to accommodate 21 to 150 for a sit down dinner.
www.hecetalighthouse.com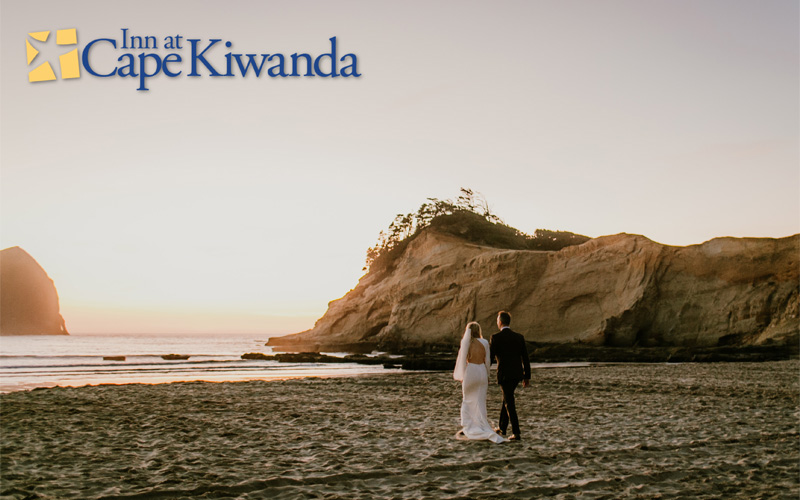 Inn at Cape Kiwanda
33105 Cape Kiwanda Drive
Pacific City, OR 97135
(888) 965-7001
The perfect Oregon Coast wedding should include a breathtaking location with a sparsely populated beach and of course award-winning craft beer and food. Have a truly unique wedding, elopement, or engagement party with the Inn at Cape Kiwanda and Pelican Pub & Brewery in uncomplicated Pacific City, Oregon. Your guests will revel in the rugged coastal line while enjoying the high-level service of our lodging accommodations and event planners. You've picked the perfect setting, leave the rest to us. Just 1.5 hours from Portland, off the beaten path of Highway 101.
www.innatcapekiwanda.com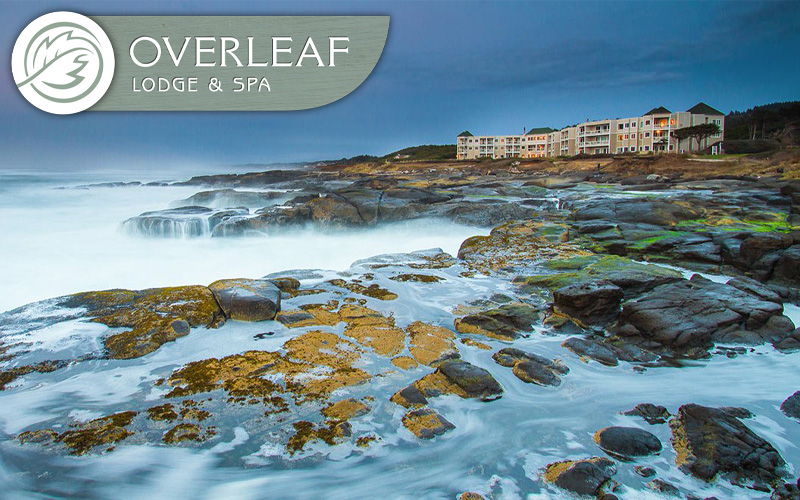 Overleaf Lodge & Spa
280 Overleaf Lodge Ln.
Yachats, OR 97498
(800) 338-0507
Nestled along the rocky Oregon coastline, the Overleaf Lodge & Spa provides premier lodging in beautiful Yachats, Oregon, and is one of the most beautiful wedding venues on the coast!
www.overleaflodge.com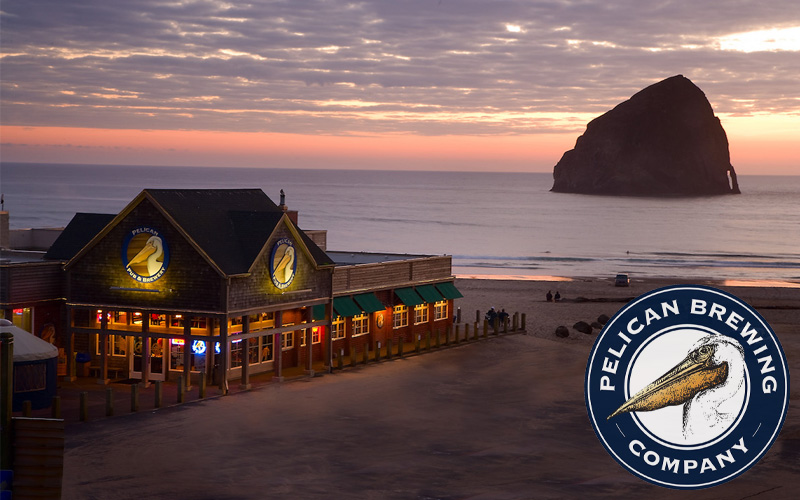 Pelican Brewing Company
33180 Cape Kiwanda Drive
Pacific City, OR 97135
(503) 965-7007
World Class Beer, Food, and People!
At the Pelican Pub & Brewery, it's about much more than just beer and food. It's about how those two can work together to create something unique.
www.pelicanbrewing.com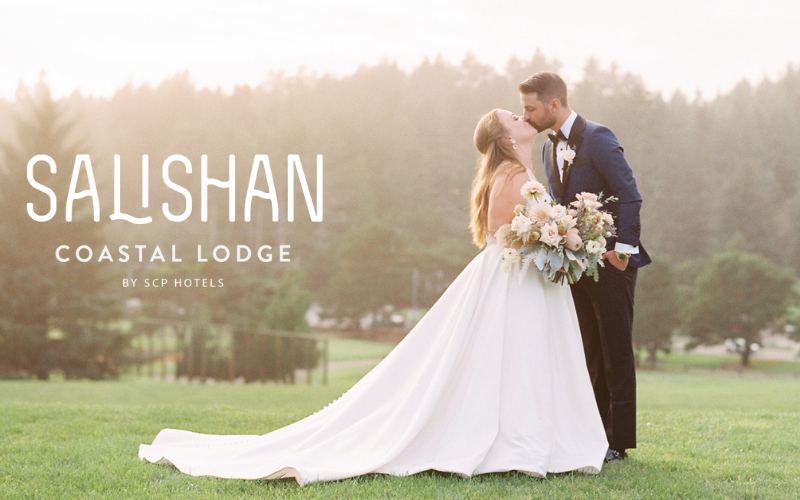 Salishan Coastal Lodge
7760 Highway 101 North
Gleneden Beach, OR 97388
(541) 764-3646
Salishan Coastal Lodge by SCP Hotels is the perfect location for a destination wedding, capturing the pioneering spirit and rugged style of the Pacific Northwest. Let the silent splendor of old-growth forests and towering mountains stand witness to one of the most important events of your life: your wedding.
Stunning outdoor venues that embrace our magical grounds and fabled coastline are available for nuptials, including beaches, forests, and for the adventurous, a wedding in the trees. More than 16,000 square feet of indoor space is also available for customizing indoor weddings and receptions. Every space incorporates elements of nature and the beauty of the Oregon Coast. Our team is available to help you design the wedding of your dreams – whether you're planning an intimate wedding for 2 or a celebration for 300.
www.salishan.com
Arch Cape Inn & Retreat
31970 East Ocean Lane
Arch Cape, OR 97102
(800) 436-2848
For those seeking an outstanding location for a memorable wedding for up to 35 guests, the Arch Cape Inn is an ideal choice. We specialize in offering warmth and hospitality not readily found today that allows family and friends to gather in a relaxed atmosphere for your wedding. Together we will help you experience a reception that will delight both you and your guests.
www.archcapeinn.com
McMenamins Gearhart Hotel
1157 N. Marion Ave.
Gearhart, OR 97138
(503) 717-8159
The Gearhart Hotel offers outdoor weddings, a large indoor event space as well as an expansive manicured lawn overlooking the first hole of the Gearhart Golf Links. Accommodations are available onsite in one of our 18 well-appointed guest rooms.
www.mcmenamins.com/private-events/weddings/Gearhart
The Fireside Motel
1881 Hwy 101 North
Yachats, OR 97498
(541) 547-3636
Toll-Free (800) 336-3573
At The Fireside, you'll enjoy watching whales from your room, sipping organic coffee and tea by your fireplace, and tossing the frisbee for your dog on the beach. Discover galleries, shops, restaurants, historic lighthouses, and favorite sunset spots. Explore miles of tidepools, trails, and quaint local attractions. Escape with friends, family, pets, and loved ones to a place where there truly is something for everyone. At the Fireside, you'll experience clean and cozy accommodations, friendly staff, walking paths along the coast, and, of course, incredible ocean views.
www.firesidemotel.com
Adobe Resort
1555 US 101
Yachats, OR 97498
(541) 547-3141
Alderbrook Golf Course
7300 Alderbrook Rd.
Tillamook, OR 97141
(503) 842-6410
Alsi Resort
902 NW Bayshore Dr.
Waldport, OR 97394
(541) 563-7700
Archer Farms Event Center & Market
94753 Haynes Way Ln.
North Bend, OR 97459
(541) 404-2308
Astoria Golf and Country Club
33445 Sunset Beach Lane
Warrenton, OR 97146
(503) 861-2211
Bandon Community Center
1200 11th St SW
Bandon, OR 97411
(541) 329-0329
Bandon Crossings Golf Course
87530 Dew Valley Lane
Bandon, OR 97411
(541) 347-3232
Bay Point Landing
92443 Cape Arago Hwy
Coos Bay, OR 97420
(541) 351-9160
Best Western Ocean View Resort
414 North Prom
Seaside, OR 97138
(503) 738-3334
Bristol Properties Event Center
481 Bennett Ave.
Coos Bay, OR 97420
(541) 297-7982
B'nai B'rith Camp
Lincoln City, OR
(503) 567-7164
Cannery Pier Hotel & Spa
No. 10 Basin Street
Astoria, OR 97103
(503) 325-4996
Cannon Beach Community Hall
207 N. Spruce St.
Cannon Beach, OR 97110
(503) 436-2623
Capella by the Sea
Azalea Park
200 North Bank Chetco River Rd.
Brookings, OR 97415
(541) 469-1103
Chinook Winds Casino Resort
1777 NW 44th St.
Lincoln City, OR 97367
(888) 816-0873
Clatsop County Fair & Expo Center
92937 Walluski Loop
Astoria, OR 97103
(503) 325-4600
Coos Bay Manor
955 S 5th St.
Coos Bay, OR 97420
(800) 269-1224
Crook Point
94727 S Bank Pistol River Rd.
Brookings, OR 97415
(541) 425-1300
Cypress Hills RV Campground
48203 US-101
Langlois, OR 97450
(541) 348-1040
Driftwood Shores Resort and Conference Center
88416 1st Ave.
Florence, OR 97439
(541) 997-8263
Event Center on the Beach
29392 Ellensburg Ave.
Gold Beach, OR 97444
(541) 247-4541
Florence Events Center
715 Quince St.
Florence, OR 97439
(541) 997-1994
Florence Golf Links
1201 35th St.
Florence, OR 97439
(541) 997-1940
Garibaldi Museum
112 Garibaldi Ave.
Garibaldi, OR 97118
(503) 322-8411
Haystack Gardens
148 E Gower Ave.
Cannon Beach, OR 97110
(503) 436-2274
Hydrangea Ranch
9455 Kilchis River Rd.
Tillamook, OR 97141
(503) 815-3762
Inn at Spanish Head
4009 SW Hwy 101
Lincoln City, OR 97367
(541) 996-2161
Kiawanda Community Center
34600 Cape Kiwanda Dr.
Pacific City, OR 97135
(503) 965-7900
Kimball Creek Bend RV Resort
97136 N Bank Rogue River Rd.
Gold Beach, OR 97444
(541) 247-7580
Liberty Theater
1203 Commercial St.
Astoria, OR 97103
(503) 325-8108
Navarra Gardens
23090 Yamhill River Rd.
Willamina, OR 97396
(503) 307-9219
Nehalem Bay Winery
34965 Highway 53
Nehalem, OR 97131
(503) 368-9463
Oceanside Community Club Rental Hall
1550 Pacific Ave.
Tillamook, OR 97141
(503) 369-3160
Pine Grove Community House
225 Laneda Ave.
Manzanita, OR 97130
(503) 368-7463
Port of Garibaldi
107 Jerry Creasy Way
Garibaldi, OR 97118
(503) 374-1424
Salmon Run Golf Course
99040 S Bank Chetco River Rd. #8239
Brookings, OR 97415
(541) 469-4888
Seaside Civic & Convention Center
415 First Ave.
Seaside, OR 97138
(503) 738-8585
Stephanie Inn
2740 S Pacific
Cannon Beach, OR 97110
(855) 977-2444
Surfsand Resort
148 W Gower
Cannon Beach, OR 97110
(855) 632-6744
Surftides Hotel & Conference Center
2945 NW Jetty Ave.
Lincoln City, OR 97367
(541) 994-2191
The Beach Club & Event Center
2020 NE 22nd St.
Lincoln City, OR 97367
(541) 418-5468
The Connie Hansen Garden Conservancy
1931 NW 33rd St.
Lincoln City, OR 97367
(541) 994-6338
The Inn at Otter Crest
301 Otter Crest Dr.
Otter Rock, OR 97369
(541) 765-2111
The Loft at the Red Building
20 Basin St.
Astoria, OR 97103
(503) 325-2223
The Mill Casino
3201 Tremont Ave.
North Bend, OR 97459
(800) 953-4800
Three Rivers Casino Resort
1297 Ocean Blvd NW
Coos Bay, OR 97420
(877) 374-8377
Tillamook Forest Center
Reopening March 1st, 2023
45500 Wilson River Hwy
Tillamook, OR 97141
(503) 815-6800
Turtle Rock Resort
28788 Hunter Creek Loop
Gold Beach, OR 97444
(541) 247-9203
Twins Ranch
6880 N Hwy 101
Tillamook, OR 97141
(541) 418-1460
Wapiti RV Park
2118 S Drift Creek Rd.
Lincoln City, OR 97367
(541) 996-2240
Weddings Oregon Coast at Coastal Cliffs
1339 Crissey Cir.
Brookings, OR 97415
(541) 254-1634
Yachats Inn - Event Center
331 US-101
Yachats, OR 97498
(541) 547-3456