Oregon Coast Wedding Officiants
Wedding vows; heartfelt words that express your deepest feelings. The words you exchange with your partner live in your hearts always. They're the focus of your wedding day. If you're unsure how to put your feeling into words, don't worry! Oregon Coast wedding officiants are here to guide you.
Read More
No matter what your faith or beliefs, you'll need someone to conduct your wedding ceremony. Our officiants help you decide what to say and offer sound wedding advice too. Above all, we want to work with you. We tailor the wedding to meet your needs. Our job is to make sure things go just as you'd hoped. We prepare special words just for you and your partner.
We assist you with other parts of your wedding as well. Many couples seek counsel before the wedding. After all, marriage is a lifelong journey. Officiants provide guidance prior to your wedding. So if you nervous or have doubts, it's okay. We're here to help. We ensure that you and your partner say your vows with clear intent. You must truly commit to each other.
Will your wedding service be classic or unique in nature? No matter what your needs, we'll take care of you. Our experts help you conduct your wedding just as you envision it. Whether your service is faith based, atheist, or same-sex, we've got you covered. Don't want a big stressful wedding? No problem! Many officiants on the Oregon Coast offer elopement service as well.
Whether you elope or say your vows in the classic wedding style, you need an officiant. No matter what type of service you're holding, someone's got to help you say, "I do." So check out our site today! We're the best wedding resource around. With us, you'll always find what you need!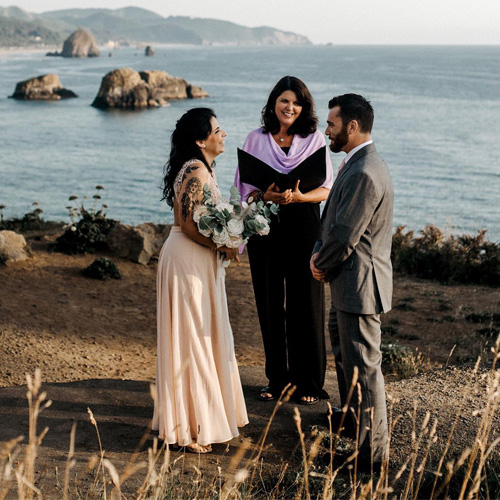 Oregon Beach Ceremonies
Manzanita, OR 97130
(503) 702-0737
"What an amazing experience! We loved how genuine our ceremony was. Carolyn went above and beyond and made it feel like we had known her forever! 100% recommend!" – Abby and Ryan (married at Ecola State Park)
As a certified Life-Cycle Celebrant© & Wedding Officiant, I specialize in crafting customized wedding and elopement ceremonies in spectacular settings on the North Oregon Coast. Consider me your "ceremony specialist" on the Oregon Coast. My services include working with you from a distance to provide recommendations and help with location, photographer, flowers, hair and makeup, permits and planning. Contact me and lets start planning your once-in-a lifetime ceremony. Experience the magic of the Oregon Coast on your wedding day!
www.oregonbeachceremonies.com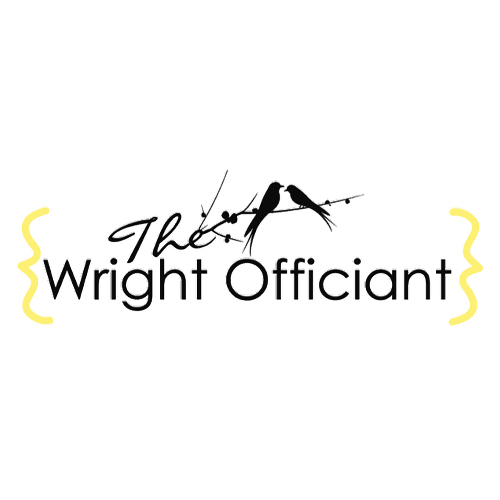 The Wright Officiant
Southern Oregon and Northern California
(541) 660-6183
It will be my pleasure to officiate at your marriage ceremony. Large or small, whether it takes place in the mountains, at the coast, in the Redwoods, at a vineyard, on a river or at a lake, or in your own backyard, I'll work with you to make your wedding ceremony memorable, comfortable and exactly what you're looking for.
www.thewrightofficiant.com
EC Matrimony
PO Box 1372
Beaverton, OR 97005
(503) 819-4257
Award-winning, 5-star rated wedding officiant who will help you create a unique, personal wedding ceremony. Contact today!!
www.ecmatrimony.com
Aaron Puchalski
Seaside, OR
(971) 218-2178
Beach Weddings On The North Oregon Coast
725 26th Ave.
Seaside, OR 97138
(503) 738-6248
Coos Weddings
Coos Bay, OR
(541) 217-0316
Joyous Celebrations ~ Rev. Patricia Durkin
Cannon Beach, OR
(503) 436-1979
Minister Michael's Wedding Officiant Services
310 SW 2nd St #1202
Newport, OR 97365
(541) 406-9150
My Coastal Wedding ~ Rev. Christina Irvine
Manzanita, OR
(503) 758-3997
Odessa Ford - Officiant & Sand Art
Oregon Coast
(503) 999-5561
Oregon Coast Officiants
3550 NE Quay Avenue
Lincoln City, OR 97367
(541) 921-1828
Oregon Coast Weddings with Katrina Wynne
P.O. Box 956
Yachats, OR 97498
(541) 547-5123
Rev. Marcie Howard
Lincoln City, OR
(541) 921-0045
Rooted & Wild: Spirited Ceremonies
Portland, OR
Available for travel throughout the Pacific Northwest
(971) 319-2681
Tony Kaltenberg - Musician, Wedding Officiant
Newport, OR
(541) 547-5136
Wedding Ceremonies YOUR Way - Officiate, Minister, MC
108 Hill Dr.
Cathlamet, WA 98612
(503) 936-9469
Weddings by the Sea
1092 Ocean View Drive
Yachats, OR 97498
(541) 547-4547