Oregon Coast Wedding Flowers & Florists
If you're looking for wedding florists on the Oregon Coast, then prepare to be amazed! The coast is full of lush greenery and has a great climate for raising the most beautiful flowers. The Oregon Coast is home to thousands of varieties of flowers, trees, grasses, shrubs, and mosses. So if you want uniquely designed wedding flower arrangements found nowhere else, you're in the right place!
Read More
The Pacific Northwest is home to thousands of botanical varieties. Even if you want non-native plants for your wedding, it's no problem! The warm climate of the lush Rogue River Valley is perfect for growing a variety of unique plant species. Want a classic bouquet of roses, peonies, or lilies? How about a rustic arrangement with sage, sunflowers, pinecones, or even succulents? Want to include herbs, berries, wheat, or twigs in your sprays? No problem! Our flower options are truly endless.
Oregon Coast florists will customize every detail, regardless of your budget. From small, intimate arrangements to modern, elegant sprays, our florists will work with you. Whether you want large, flowing centerpieces or vintage bouquets, our florists can do it. Our flower shops have everything you need for your wedding. You can find flowers for more than just bridal bouquets. We have perfect flowers for the mother of the bride, bridesmaids, groomsmen, flower girl, and ring bearer too.
So take time to smell the flowers, and find the perfect bouquet for your wedding day. Our wedding florists will create the perfect package for your big day. From the boutonnieres to the floral decorations of your dreams, all of your flowers are sure to be perfect. Whether your big day is in the winter, spring, summer or fall, you'll always find the perfect wedding flowers on the Oregon Coast.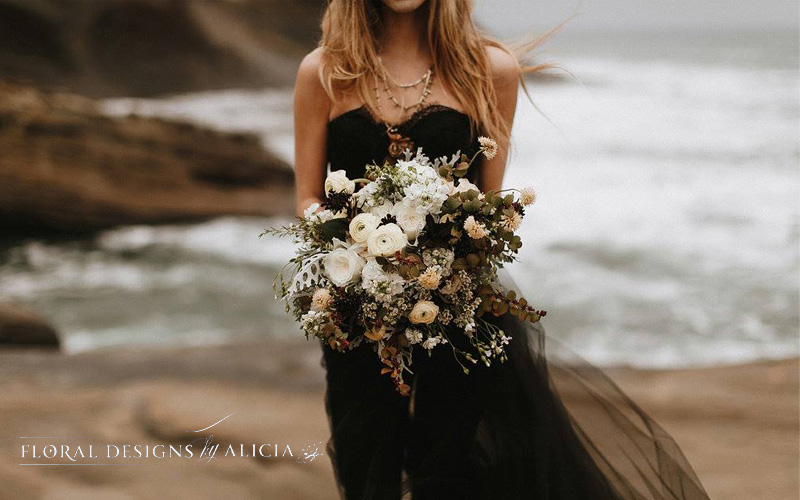 Floral Designs by Alicia
20093 White Cloud Cir.
West Linn, OR 97068
(503) 754-7484
Specializing in beautiful botanical designs to complete your wedding or event. We mold to your vision and meet your floral desire. We love to travel and accommodate every budget.
www.floraldesignsbyalicia.org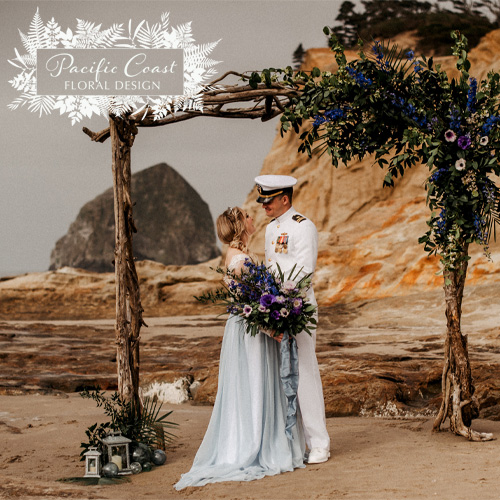 Pacific Coast Floral Design
East Street
Pacific City, OR 97112
(617) 955-9739
Pacific Coast Floral Design is a boutique florist specializing in events on the Oregon Coast. Whether you have a specific vision or you want us to design something truly unique, we're here to make your floral design dreams come true!
Available for any event, wedding or elopement photoshoots. We can create simple centerpieces to accent your professional event or design and build extravagant altar pieces for your gorgeous wedding on the beach, and everything in between!
www.pacificcoastfloraldesign.com
Abundant Blooms
58594 Dru Rd
Bandon, OR 97411
(541) 347-9652
Alsea Bay Florist
205 SW Hwy 101
Waldport, OR 97394
(541) 563-5559
Bandon Floral and Gift
1092 Alabama Ave SE
Bandon, OR 97411
(541) 347-2117
Basketcase - Your Cannon Beach Florist
123 S Hemlock
Cannon Beach, OR 97110
(503) 436-2106
Bloomin Crazy Floral
971 Commercial St.
Astoria, OR 97103
(503) 325-3571
Brookings Blooms
505 Hemlock St.
Brookings, OR 97415
(541) 813-1880
Captain's Flowers & Gifts
6425 Pacific Ave.
Pacific City, OR 97135
(971) 267-6347
Checkerberry's Flowers & Gifts
169 N 2nd St.
Coos Bay, OR 97420
(541) 269-5312
Corvus Flowers at Corvus Landing Farm
8605 Slab Creek Road
Neskowin, OR 97149
(541) 418-2281
Erickson Floral Company
1295 Commercial St.
Astoria, OR 97103
(503) 325-4831
Erika's Fresh Flowers
Warrenton, OR
(503) 791-0538
Floral Expressions
2133 NE 21st St.
Lincoln City, OR 97367
(541) 921-1167
Florence in Bloom
1234 Rhododendron Dr.
Florence, OR 97439
(541) 997-5391
Flowers by the Sea
29730 Ellensburg Ave.
Gold Beach, OR 97444
(541) 247-7673
Hydrangea Ranch
9455 Kilchis River Rd.
Tillamook, OR 97141
(503) 815-3762
Newport Florist and Gifts
715 SW Hurbert St., Unit A
Newport, OR 97365
(541) 265-8262
Ocean Breeze Flowers and Tuxedos
1866 Sherman Ave # A
North Bend, OR 97459
(541) 808-0303
Oregon Coast Evergreen
2580 Yellow Fir Rd Bldg. A
Tillamook, OR 97141
(503) 842-2737
Oregon Coastal Flowers
9455 Kilchis River Rd.
Tillamook, OR 97141
(888) 815-0885
Petal to the Metal Flowers
1993 Sherman Ave.
North Bend, OR 97459
(541) 751-8880
Riverside Floral
2014 2nd St.
Tillamook OR 97141
(503) 812-7863
Sea Breeze Florist
311 6th St.
Port Orford, OR 97465
(541) 332-0445
The Natural Nook Flower Shop
738 Pacific Way
Gearhart, OR 97138
(503) 738-5332
Toledo Florist & Gifts
525 NW Bay Blvd.
Toledo, OR 97391
(541) 336-3103