Oregon Coast Wedding Jewelry Stores
Asking your partner to marry you is one of the most important events in your life. Of course, you need the perfect ring to pop the big question. If you want a truly special ring for your engagement, then you need an expert jeweler. Oregon Coast jewelers offer everything from modern and vintage wedding bands to custom-made rings. The Oregon Coast is home to many classic, antique, and eclectic jewelry stores.
Read More
The first step in selecting your ring is choosing the jewels. Diamond bridal sets are classic and timeless, and we have the very best. If you're looking for unique gemstones, then you're in luck! Our jewelers craft stunning rings with everything from rubies and emeralds to sapphires and turquoise. Metal choice is equally important for your ring choice. Not only do we have standard, rose, and white golds, but also other precious metals. Want platinum, silver, or titanium? No problem! Don't forget custom engraving to make your rings truly special.
Now that you've chosen rings, what about the bridal jewelry? Accent your gown with stunning earrings and a fine necklace. Adorn your wedding party with gorgeous pieces made especially for them. Your bridesmaids and mother-of-the-bride will love our glittering bracelets and elegant broaches. We also have high-end cufflinks, watches, and chains for the groom, groomsmen, and father-of-the-bride.
Jewelry is a very personal thing, but the quality is undeniably important to all. Whether you choose a vintage band or a modern ring, quality comes first. For hand cut jewels and pieces with unmatched attention to detail, come to the Oregon Coast. Everything you buy from Oregon Coast jewelers is rare and unique. Our jewelry stands the test of time, both in quality and style. Whatever your preference, we have everything you need to make your wedding day sparkle!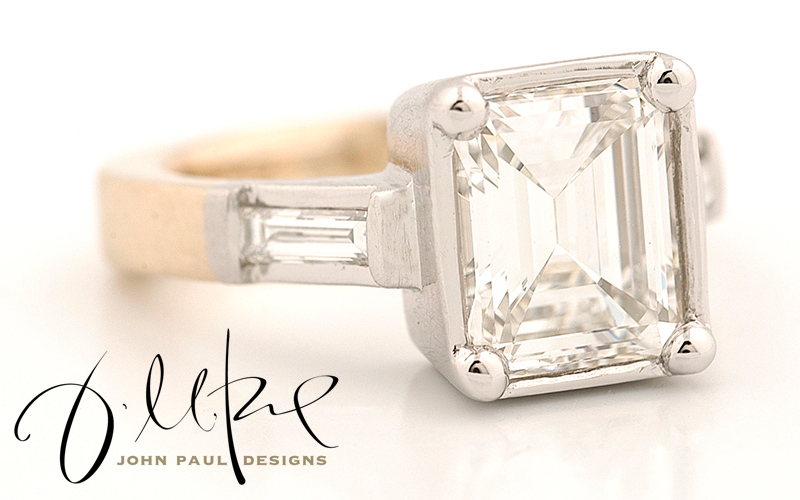 John Paul Designs
1006 NW Bond St.
Bend, OR 97701
(541) 318-5645
John Paul Designs has been located in downtown Bend for over 13 years creating unique, one of a kind wedding and engagement rings in a variety of precious metals and gems. Each piece is hand crafted one at a time at our downtown atelier. We often utilize our clients heirloom diamonds and gemstones to create something entirely new. John Paul's signature style is organic, weathered, edgy and industrial.
www.johnpauldesigns.com
Diamonds By the Sea
2005 N Coast Hwy.
Newport, OR 97365
(541) 265-7755
Florence Antiques & Coast Jewelers
1220 Bay St #100
Florence, OR 97439
(541) 997-8104
Foxfire Custom Jewelers
Oregon Coast
(541) 992-3029
Fred Meyer Jewelers - Brookings
325 5th St.
Brookings, OR 97415
(541) 469-1610
Fred Meyer Jewelers - Coos Bay
1020 S 1st St.
Coos Bay, OR 97420
(541) 269-4000
Fred Meyer Jewelers - Florence
4701 US-101
Florence, OR 97439
(541) 902-7300
Fred Meyer Jewelers - Newport
150 NE 20th
Newport, OR 97365
(541) 265-8460
Fred Meyer Jewelers - Tillamook
2500 N Main Ave N
Tillamook, OR 97141
(503) 815-1400
Fred Meyer Jewelers - Warrenton
695 US-101
Warrenton, OR 97146
(503) 861-3000
Harry Ritchie's Jewelers North Bend
1611 Virginia Ave # 162
North Bend, OR 97459
(541) 756-5413
Holly McHone Jewelers
1150 Commercial St.
Astoria , OR 97103
(503) 325-8029
Jurgens Jewelers
1911 Newmark St.
North Bend, OR 97459
(541) 751-0111
SJ Custom Jewelers
316 NW Coast St.
Newport, OR 97365
(541) 272-5300