Oregon Coast Restaurants & Wedding Rehearsal Dinners
You've worked hard to plan the wedding. Now it's time to relax — it's time for the rehearsal dinner. This dinner is a chance to take a rest and spend time with family and friends before the wedding. It's a time for fun, good drinks, and even better food. But where to host it? Lucky for you, the Oregon Coast is full of incredible restaurants and private party spaces.
Read More
Tasting the Tides: Coastal Cuisine Adventures – Restaurants for Your Oregon Coast Rehearsal Dinner
When it comes to planning the perfect rehearsal dinner along the captivating Oregon Coast, the culinary scene is as diverse as the breathtaking landscapes. From Astoria to Brookings, each coastal town offers a plethora of dining options to cater to the varied tastes of wedding parties and their families. Here's a guide to exploring the eclectic array of restaurants, ensuring a delightful prelude to your big day.
Restaurants With Northwest Flavors
In the northern gem of Astoria or the charming town of Cannon Beach, explore restaurants that showcase the flavors of the Northwest. Indulge in locally sourced, organic ingredients that capture the essence of the region's bountiful offerings.
Breweries by the Sea
For a laid-back rehearsal dinner, consider breweries in bustling coastal towns like Newport or Lincoln City. Sip on craft beers paired with delectable bites, creating a convivial atmosphere that sets the stage for a joyous celebration.
Asian Fusion Delights
Elevate your rehearsal dinner experience in Pacific City or Seaside with the intricate flavors of Asian cuisine. Whether it's sushi, dim sum, or flavorful noodle dishes, coastal towns offer a delightful array of options for those craving the exotic.
Mexican Fiesta by the Waves
Bring a touch of fiesta to your celebration in Florence or Bandon with vibrant Mexican cuisine. From zesty tacos to flavorful enchiladas, enjoy the spirited ambiance and bold flavors that Mexican restaurants along the coast have to offer.
Italian and Pizza with Ocean Views
Opt for a touch of romanticism with Italian cuisine in the beautiful coastal towns of Yachats or Depoe Bay. Immerse yourself in the warmth of Italian hospitality while savoring classic dishes that transport you to the heart of Italy. For a casual and communal dining experience, pizza is always a crowd-pleaser. Find pizzerias in charming coastal towns like Cannon Beach or Brookings, offering a variety of toppings to suit every palate.
Seafood Restaurants Galore
It goes without saying that the Oregon Coast is a seafood lover's paradise. From Astoria to Gold Beach, indulge in the freshest catches of the day. Choose waterfront restaurants for a picturesque dining experience, allowing you to savor the flavors of the sea while enjoying panoramic views.
Embracing Dietary Preferences
For those with dietary preferences, coastal towns cater to diverse needs. Explore restaurants offering organic, local, vegetarian, and vegan options. Whether you're in Newport or Lincoln City, these establishments ensure that everyone at the rehearsal dinner is catered to with care.
As you embark on your rehearsal dinner adventure along the Oregon Coast, the culinary landscape awaits with open arms. Whether you seek the freshness of seafood, the richness of Italian fare, or the boldness of Mexican flavors, coastal towns offer a diverse array of dining experiences to create memorable moments leading up to your special day.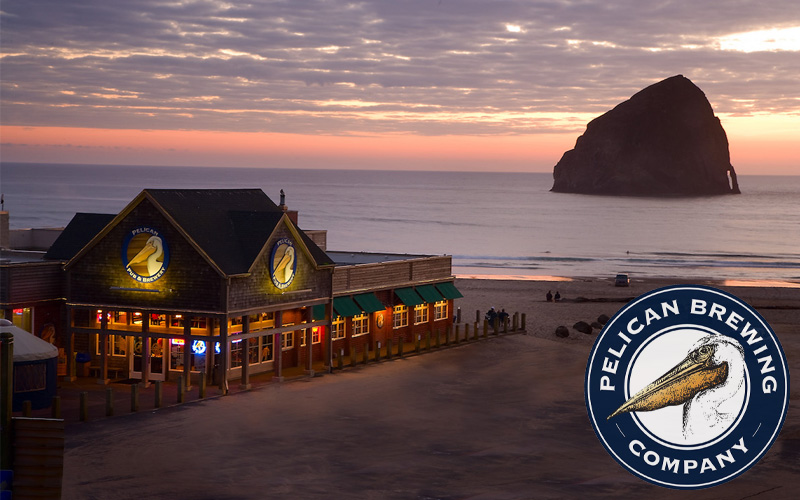 Pelican Brewing Company
33180 Cape Kiwanda Drive
Pacific City, OR 97135
(503) 965-7007
World Class Beer, Food, and People!
At the Pelican Pub & Brewery, it's about much more than just beer and food. It's about how those two can work together to create something unique.
www.pelicanbrewing.com
Buoy Beer Company
1 8th St.
Astoria, OR 97103
(503) 325-4540
Clearwater Restaurant
325 SW Bay Blvd.
Newport, OR 97365
(541) 272-5550
Fathom's Restaurant
4009 SW Hwy 101
Lincoln City, OR 97367
(541) 994-1601
Georgie's Beachside Grill
744 SW Elizabeth St.
Newport, OR 97365
(541) 265-9800
Inn at Spanish Head
4009 SW Hwy 101
Lincoln City, OR 97367
(800) 452-8127
Kyllo's Seafood & Grill
1110 NW 1st Ct.
Lincoln City, OR 97367
(541) 994-3179
Lord Bennett's
1695 Beach Loop Dr SW
Bandon, OR 97411
(541) 347-3663
Maggie's On the Prom
580 Beach Dr.
Seaside, OR 97138
(503) 738-6403
Newmans at 988
988 S Hemlock St.
Cannon Beach, OR 97110
(503) 436-1151
Ona Restaurant & Lounge
131 US-101
Yachats, OR 97498
(541) 547-6627
Pelican Brewing – Cannon Beach
1371 S Hemlock St.
Cannon Beach, OR 97110
(503) 908-3377
Spinner's
29430 Ellensburg Ave.
Gold Beach, OR 97444
(541) 247-5160
The Bay House at Salishan
7760 US-101
Gleneden Beach, OR 97388
(541) 996-3222
The Wayfarer Restaurant and Lounge
1190 Pacific Dr.
Cannon Beach, OR 97110
(503) 436-1108
Tidal Raves Seafood Grill
279 US-101
Depoe Bay, OR 97341
(541) 765-2995