Oregon Coast Transportation, Shuttle, Limos & Tours
Transport your wedding guests in style! When it comes to wedding transportation, we have endless options here at the beach. From airport shuttles limousines and taxi services, to shuttle bus and tour van options, we keep things moving smoothly so you can relax on your big day!
Read More
Seamless Journeys: Navigating Wedding Transportation on the Oregon Coast
Ensuring smooth and stress-free transportation for family, friends, and guests is a crucial aspect of planning a wedding on the picturesque Oregon Coast. From the coastal charm of Astoria to the serene beauty of Cannon Beach, explore various transportation options to seamlessly transport your loved ones to and from the wedding venue.
Shuttle Buses for Group Ease
Consider shuttle buses for large groups, a convenient option for transporting guests from accommodations to the wedding venue and back. This is especially beneficial in towns like Newport or Lincoln City, where guests can enjoy the scenic route without worrying about parking or navigation.
Tour Vans for Coastal Excursions
For a touch of exploration, opt for tour vans that can take your wedding party and guests on coastal excursions. This is a fantastic way to show off the stunning landscapes of Pacific City or Yachats and create unforgettable memories around the wedding celebration.
Limousines for Elegant Arrivals
Add a touch of elegance with limousines for the bridal party or special guests. Imagine arriving at your wedding venue in style against the coastal backdrop of Depoe Bay or Brookings, creating a lasting impression on your special day.
Taxis and Ride-Sharing Convenience
In more intimate coastal towns like Bandon or Seaside, taxis or ride-sharing services can provide convenient and efficient transportation options for guests, ensuring they can move freely between accommodations and the wedding venue.
Hotel Shuttles for Guest Comfort
Leverage hotel shuttles for the added convenience of transporting guests directly from their accommodations. This is a particularly useful option in bustling towns like Astoria or Florence, where guests can relax and enjoy the coastal scenery without the hassle of arranging individual transportation.
Airport Shuttles for Traveling Guests
For guests flying into coastal towns such as Cannon Beach or Gold Beach, arranging airport shuttles ensures a hassle-free transition from the airport to their accommodations, contributing to a seamless overall wedding experience.
Coastal Narratives with Tour Guides
Elevate the transportation experience by hiring tour guides who can provide insights into the rich history and natural wonders of the Oregon Coast. This personalized touch adds an extra layer of enjoyment for guests traveling from towns like Tillamook or Manzanita.
As you plan your wedding along the Oregon Coast, consider the diverse transportation options available in each unique town. Whether you're looking for group convenience, individual comfort, or a touch of coastal exploration, the transportation choices on the Oregon Coast cater to every wedding style, ensuring your guests arrive and depart with ease and joy.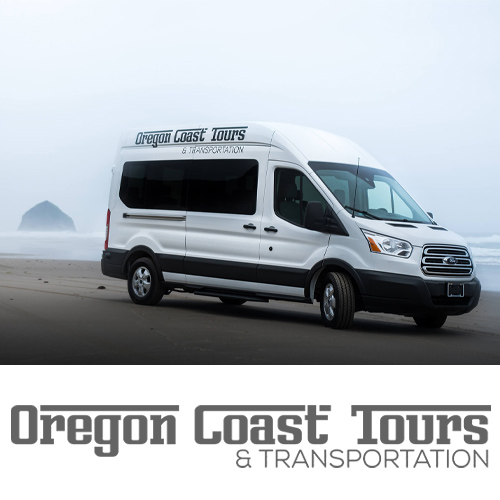 Oregon Coast Tours & Transportation
Oregon Coast
(503) 801-0831
Oregon Coast Tours is the premier transportation company in the Pacific Northwest. Whether you need a safe party bus for wine tours, brewery visits, or the next wedding, a bicycle shuttle for your Oregon Coast bike trip, or just want a stress-free, private vehicle for whatever you have in mind, we are here for you.
www.oregoncoasttourguide.com
AAlpha Shuttle & Taxi Service | Transportation Services
Seaside, OR
(503) 440-7777
Apex Helicopters
2001 Airport Ln.
Florence, OR 97439
(541) 997-3270
Aspen Limo Tours
5830 NE 109th, Suite 5
Portland, OR 97220
(503) 274-9505
Aviation Transportation
Bandon, OR
(541) 347-1767
Captain Clameron's Excursions
Waldport & Brookings OR
(541) 654-1633
Caravan Airport Transportation
Oregon Coast / Portland Airport
(541) 994-9645
Coastal Luxury Limos
Lincoln City, OR
(541) 921-8406
Coos Aviation
2348 Colorado Ave.
North Bend, OR 97459
(800) 216-2652
DowntownCoffeeShopTaxi LLC
33 SW Gardenia Ave.
Warrenton, OR 97146
(503) 791-6728
Jerry's Rogue Jets - Jet Boat Tours
29985 Harbor Way
Gold Beach, Oregon 97444
(800) 451-3645
Newport Municipal Airport
135 SE 84th St.
Newport, OR 97366
(541) 867-7422
Newport Yaquina Cab
956 SW 10th St.
Newport, OR 97365
(541) 270-9814
Oregon Beach Rides
Nehalem Bay, OR
(971) 237-6653
Oregon Coast Limousine
PO Box 2078
Florence, OR 97439
(541) 902-0492
Oregon Coast Scenic Railroad
402 American Ave.
Garibaldi, OR 97118
(503) 842-7972
Pacific Coast Cab
Newport, OR
(541) 961-4188
Snibley's Chauffeur Service
Oregon Coast / Portland Airport
(541) 992-3858
South Coast Tours
Southern Oregon Coast
(541) 373-0487
Southwest Oregon Regional Airport
1100 Airport Ln.
North Bend, OR 97459
(541) 756-8531
Sunshine Limo Service & Wine Tours
191 Wallis St.
Eugene, OR 97402
(541) 344-5466
Wildwood Adventures
Portland, OR
(503) 396-3929