Oregon Coast Wedding Transportation, Shuttle, Limos & Tours
Transport your wedding guests with style! When it comes to Oregon Coast wedding transportation, we have endless options. From airport shuttles to limo service, we keep things moving smoothly so you can stress less.
Read More
For your bachelor or bachelorette party, an Oregon Coast party bus is the way to go. Party buses are a safe, easy way for you and your friends to go out on the town. We'll take you where you want to go all night – and the best part? No one drinks and drives! Party buses and limos offer a truly fun and unique night out you that and your besties will never forget.
What about transport for your wedding party? Guests from out of town need to get to and from your venue. For just a few guests, a rental car is perfect. From Hummers to vans to town cars, we have auto rentals for parties of any size. If no one wants to drive or deal with traffic, we have options! We've got taxi cabs, eco shuttles, and even a minibus. And don't forget about public transport! Our public transit system is cheap and efficient. You can always save a buck and take the bus!
How do you see yourself arriving at your wedding venue? In a limo, a classic car, or something else? Have you considered a luxury car, horses, or a horse-drawn carriage? We even offer Baraat horses and elephants! You'll also want to think about valet services for your guests. If your wedding or reception is downtown, a valet ensures parking is hassle-free.
Whatever you choose for your Oregon Coast wedding transportation service, you're sure to find every service you're looking for. From simple to extravagant, we have the best wedding transit rentals at the beach!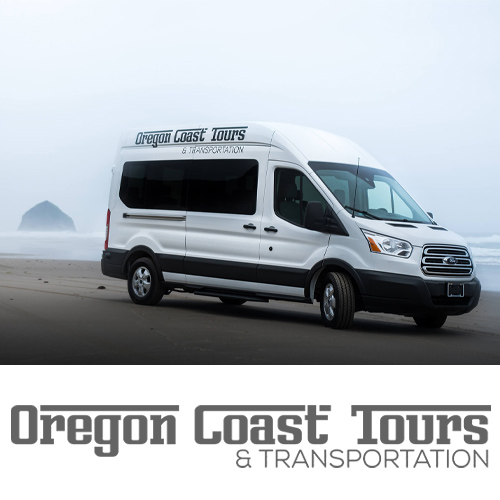 Oregon Coast Tours & Transportation
Oregon Coast
(503) 801-0831
Oregon Coast Tours is the premier transportation company in the Pacific Northwest. Whether you need a safe party bus for wine tours, brewery visits, or the next wedding, a bicycle shuttle for your Oregon Coast bike trip, or just want a stress-free, private vehicle for whatever you have in mind, we are here for you.
www.oregoncoasttourguide.com
AAlpha Shuttle & Taxi Service | Transportation Services
Seaside, OR
(503) 440-7777
Apex Helicopters
2001 Airport Ln.
Florence, OR 97439
(541) 997-3270
Aspen Limo Tours
5830 NE 109th, Suite 5
Portland, OR 97220
(503) 274-9505
Aviation Transportation
Bandon, OR
(541) 347-1767
Captain Clameron's Excursions
Waldport & Brookings OR
(541) 654-1633
Caravan Airport Transportation
Oregon Coast / Portland Airport
(541) 994-9645
Coastal Luxury Limos
Lincoln City, OR
(541) 921-8406
Coos Aviation
2348 Colorado Ave.
North Bend, OR 97459
(800) 216-2652
DowntownCoffeeShopTaxi LLC
33 SW Gardenia Ave.
Warrenton, OR 97146
(503) 791-6728
Jerry's Rogue Jets - Jet Boat Tours
29985 Harbor Way
Gold Beach, Oregon 97444
(800) 451-3645
Newport Municipal Airport
135 SE 84th St.
Newport, OR 97366
(541) 867-7422
Newport Yaquina Cab
956 SW 10th St.
Newport, OR 97365
(541) 270-9814
Oregon Beach Rides
Nehalem Bay, OR
(971) 237-6653
Oregon Coast Limousine
PO Box 2078
Florence, OR 97439
(541) 902-0492
Oregon Coast Scenic Railroad
402 American Ave.
Garibaldi, OR 97118
(503) 842-7972
Pacific Coast Cab
Newport, OR
(541) 961-4188
Snibley's Chauffeur Service
Oregon Coast / Portland Airport
(541) 992-3858
South Coast Tours
Southern Oregon Coast
(541) 373-0487
Southwest Oregon Regional Airport
1100 Airport Ln.
North Bend, OR 97459
(541) 756-8531
Sunshine Limo Service & Wine Tours
191 Wallis St.
Eugene, OR 97402
(541) 344-5466
Wildwood Adventures
Portland, OR
(503) 396-3929